Google Sheets Habit Tracker
Free Google Sheets Template to track your daily, weekly, and monthly tasks. It's designed with a blogger or business owners in mind, but it's great for any goals that you want to track…fitness, health, finance, and more!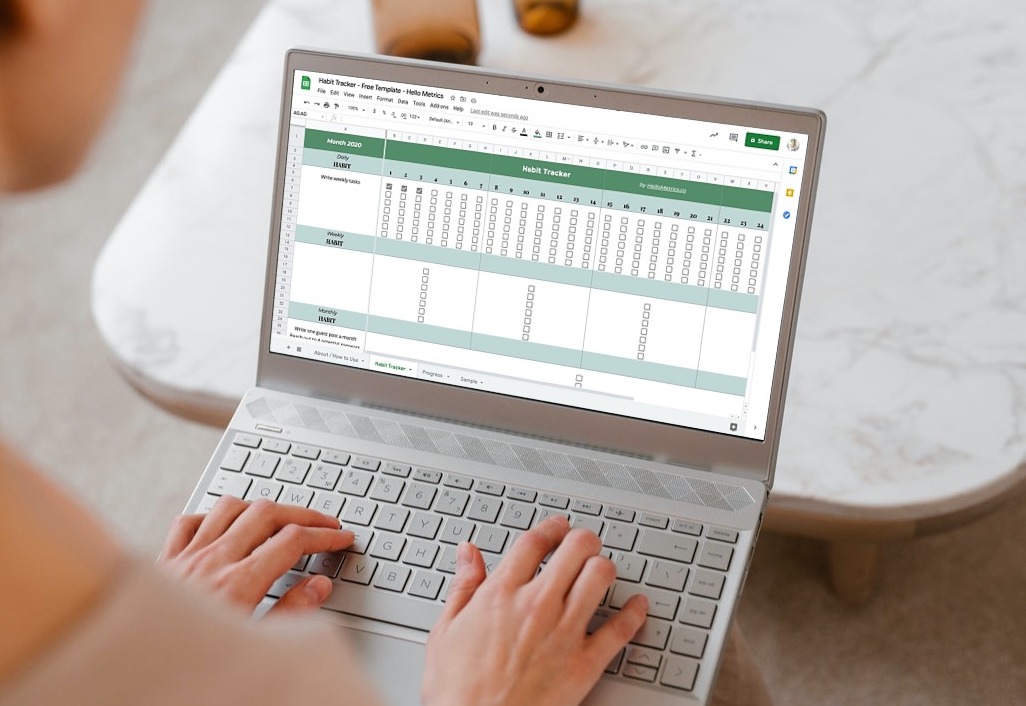 Google Sheets Habit Tracker
How to Use This Habit Tracker in Google Sheets
This isn't your typical habit tracker. It's designed with a specific purpose in mind – keep tracking of recurring tasks for your business.
Save the Google Sheets Habit Tracker here.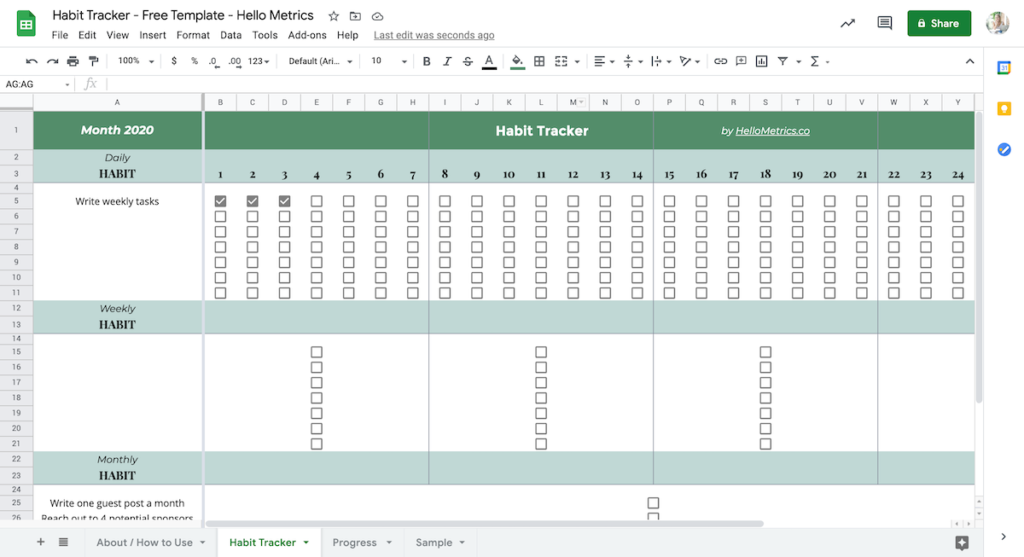 If you've been to here before, you may know I'm an entrepreneur myself that recently launched this site to help other business owners and solo-prenuers by giving some of my most helpful business planners and templates.
I also have a blog that started as a "side-hustle" but has grown to over 100k page views. Now I share templates, SEO strategy, and more that's helped me build these businesses. 
Your typical habit tracker focuses on daily habits. However, while running my blog, I realized there were a lot of tasks I would only do once a week, or twice a week, or even only once a month. 
While this may not necessarily be building your typical "habits", I wanted to keep track of this routine. I wanted to be able to visualize just how many Pins I was posting to Pinterest each month, or how frequently I was writing blog posts. 
If there is one lesson I've learned about starting a blog – it's persistence. You have to keep at it. It won't skyrocket in traffic over a month. While so many people start a blog, they give up after a few months. 
Or, many people think they are doing a lot of work on their side-hustle, but next thing you know you realize it's been two weeks since you've published anything.  
It's like going to the gym – if you ask the typical person how often they go, they might say 3-4 times a week. But as soon as their account is pulled up, you'll see they actually rarely go more than twice a week!
This was my motivation for creating this habit tracker, and I personally use it to track my business goals. However, if you're looking to use this to build personal habits like "meditate everyday" you can customize this free template by removing the rows for weekly and monthly habits. 
You'll visually see just how many check marks you've had over the course of the month, but there is also bonus sheet included in this template! In the "Progress" tab it automatically will count how many checks you have for that habit. Write your goal for how often you want to achieve that goal. Perhaps you have a health goal to run 4 times a week.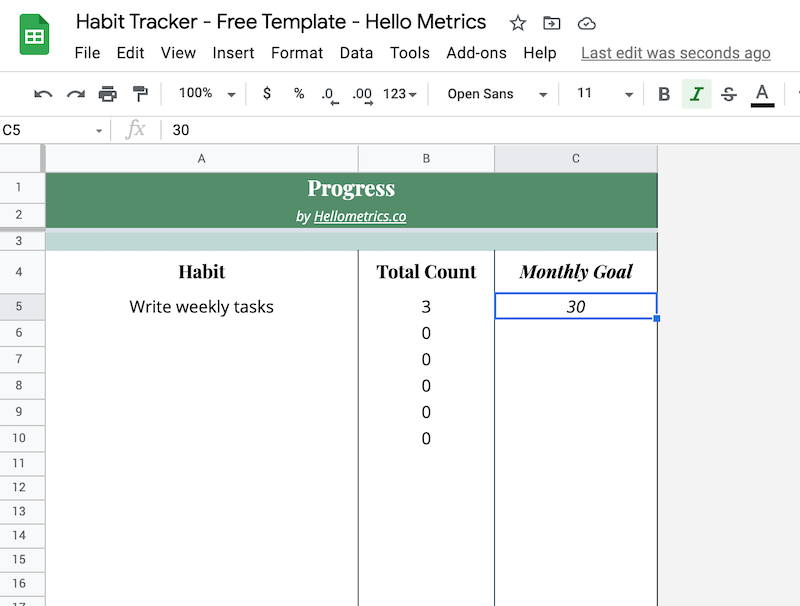 You can note in the goals that during the month that would be about 16 runs. You'll be able to easily measure your progress in a single glance to see if you really are hitting those 4 times a week. 
I recommend bookmarking this spreadsheet so you have easy access to it. Even better, you can set it as your home screen so it's the first thing you see when you jump online. 
If you have any questions about our free Google Sheets habit tracker, feel free to email us at hello (at) youryearcalendar.com or leave a comment below. We hope it helps you hit your goals or grow your business…. tracking my habits has certainly helped me!